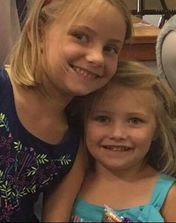 EVERY CHILD DESERVES SUCCESS

Myra Mansfield believes that all children, regardless of their background, are capable of achieving greatness.

Daughter of K-25 retiree Stanley Finch and ORNL retiree Shirley Garrison (Finch) Frykman, Myra is a lifelong Oak Ridger and proud product of Woodland Elementary, Jefferson Middle and Oak Ridge High schools. She holds degrees in accounting, business management and a master's degree focused in counseling. Her daughters Esther and Elizabeth are graduates of MTSU and her son Jonathan is working on his college degree. She has two sons-in-law, Paul is a warrant officer in the US Army and Matthew is an investment strategist. Pictured are her granddaughters, Kyrstin and Kennedy.

Myra has spent her adult life serving children, teens, and young adults in the Oak Ridge community in various leadership, counseling and educational roles. She works as the client services director for Choices Resource Center and as the children's pastor at Living Water church. She is the founder and event coordinator for the annual Nurturing and Safe World child advocacy seminar and is an advocate with Shepherding the Next Generation. Myra previously served in Oak Ridge schools as a substitute teacher and currently works with guidance counselors and staff in local schools coordinating school support programs.

Through her professional and volunteer work, Myra understands the personal struggles facing the average Oak Ridge student today. She also believes that, for most the right influence and education can help them overcome many of those struggles.

Myra says, "The 21st century demands that we make changes in our community, schools, churches, and families that adapt to today's children so they find the support they need to climb higher than their circumstances may seem to dictate."

If you share her concerns she would love to hear from you.


---
---