HOLIDAY SPECIAL!
BUY BOTH BOOKS - Robertsville and The Story of John Hendrix for a special package price of $25.
​We will pay the postage and most copies are autographed.
Follow directions at the bottom of this page to place your order.
​
---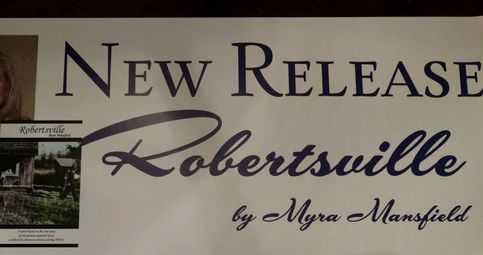 Seventy-five years after the greatest material sacrifices were
made by US citizens for the WWII effort comes the story of the
community whose personal losses helped change the world.
​
Robertsville is an historical novel based on the true story of a
small East Tennessee farm community whose primitive lifestyle
insulated its people from the world progress around them. It is
here that "The Prophet" John Hendrix announces he has had
visions about the future. Followed by an invasion of moral
corruption associated with uninvited moonshine stills, the
community is challenged to find ways to maintain its long-time
traditional standards. After the prophet's death, the drama
continues as his misdirected son struggles with demons of his own. Suddenly, the entire community faces a WWII crisis
uncommon to any other citizens in the continental United States.
280 pages $15.95 + $3 postage = Pay $18.95 at checkout
---
---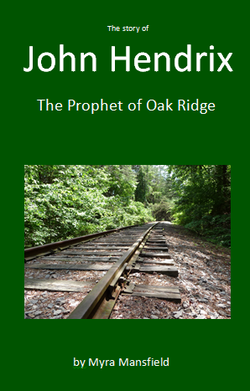 The Story of
John Hendrix
The Prophet of Oak Ridge


At the turn of the 20th Century a simple farmer from a rural East Tennessee community experienced a tragedy after which his life became radically transformed. Following forty nights in the woods he said he had visions about the future. Those who knew him couldn't even remotely understand the magnitude of what he was trying to say using the primitive language common in that day.
Yet the fulfillment of those visions came to be called
"the greatest accomplishment of the 20th century."

Price $9.95 + $2 postage = Pay $11.95 at checkout
64 pages
---
---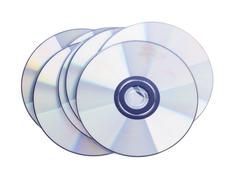 Myra Mansfield has several teaching CDs. Cost is $5.95 each and includes postage.

My Changed Life is a recording of Myra's testimony of finding inner healing through a personal, private revival in her own home after years of struggling as a Christian.
​Inside the Life of Christ examines the human side of Jesus in an attempt to encourage believers to consider that they CAN become like Jesus.
Where's My Destiny? explains that someone's sexual past could be the root of attitudes that keep them from moving toward their God-ordained destiny.
---
TO ORDER THROUGH THIS WEBSITE YOU MUST ENTER THE ORDER USING THE FORM ON THE RIGHT AND THEN YOU MUST SEND YOUR PAYMENT INFORMATION SEPARATELY USING THE PAYPAL BUTTON BELOW. FEEL FREE TO CALL 865-220-8826 IF YOU HAVE A PROBLEM.​ Your order will not be shipped if payment is not processed.

1. Complete the form to the right
2. Press Submit Text, and then continue with the payment process
3. Press the Pay Pal BUY NOW button


Press Submit Text to place order. Press Buy Now to make payment.